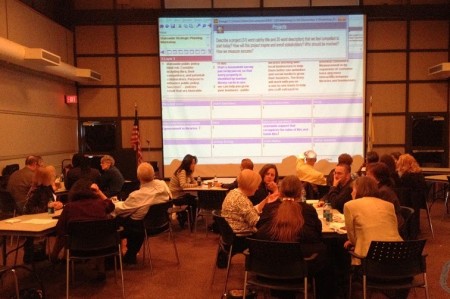 As the facilitators of community meetings that require the use of technology many of the rooms are too big, too small, too constrained or just plain weird.
The venues are often a challenge. Maverick & Boutique use the Zing collaborative meeting environment in our work. It requires a video projector, a giant shared screen (for example, a big white wall), wireless keyboards, a computer and tables and chairs for conversations.
After Hurricane Sandy the debrief of the Jersey shore communities (in Monmouth County) were held in a two different courtrooms and an IHOP (the International House of Pancakes) restaurant. The Essex County community response to the Emergency Preparedness Plan was held in the party room at a skating rink. The Vermont economic development strategy was created in a fire brigade meeting room, a night club, a school classroom, an adult learning center, a ski resort and not one, but two old theaters.
We have also heard of other unusual settings for our kind of meetings:
In the Papua New Guinea highlands, a large white sheet for a screen, a portable generator for power.
In an Italian restaurant, one DeBono Thinking Hat per course
In a lecture theater of computerists in Melbourne, clumped together in groups
At an embassy in Washington DC
A church in Phoenix
A boathouse in Canberra
On a kitchen table
What we have discovered is that it really does not matter where we meet. It is more important how you set up the room, how people interact and the kinds of questions you ask.
In the world of complex systems that we inhabit, we know that structure influences behavior. The structure of a meeting not only includes the shape and size of the meeting space, whether we have rows of seats or chairs and tables, the rules of interaction, and the way you generate, record and make sense of your collective knowledge.
Here's some examples:
Rows of chairs facing a stage, people on the stage facing the audience: Some Japanese call this the American speaking hall, because the people on the stage speak, and the audience listens.
People seated in a U: You can really only talk to one person next to you. Hopefully, no one misses out on a partner in the discussion.
People seated in a circle facing each other: No power positions, but very uncomfortable for the introverts among us.
Town halls: where the audience members take turns to ask questions, make statements, or issue challenges.
Voting: a show of hands or a vote results in winners and losers.
Idea Integration: If two people are asked to combine their ideas, then those two people combine their joint idea with two other people, and those four people…..
Here are a few rules of thumb that can ensure meetings are a success:
A very large shared screen so we can see and read everyone's ideas as they are being generated, which sparks more of our own ideas that are connected to their ideas
People work in small groups of 6-8 with people from other organizations/fields, so we expose people to points of view outside their community, discipline, part of the organization
People discuss the issues in pairs, so there are many parallel conversations
One keyboard for every 4-8 people, so everyone gets heard, and there is plenty of variety
We employ rich questions that guide people to similar conclusions, also despite our differences.
We read all the ideas aloud, so all ideas are valued
We introduce a sense-making step, so everyone in the room is asked to look for and we record the patterns in the ideas so we can develop a new shared model, despite our differences.
Workshop
So here's a few questions to help rethink your meeting:
1. Where's the most unusual place you have ever held a community meeting? Describe what happened as a result of the unusual location?
2. How are your meetings organized and what is the result?
3. What outcome would you prefer to achieve from your meetings?
4. Thinking about the structure of your meetings (room size and shape, seating, rules of interaction, agenda/questions, type of questions (closed/open), technology to support record keeping/idea sharing) what aspects of your meetings perpetuate or reward conflict?
5. Thinking about the structure of your meetings, what aspects result in reaching agreement despite your differences?
6. What could you differently about the structure of your meetings that would reward success?
https://maverickandboutique.com/wp-content/uploads/2015/03/Monroe-Library-New-Jersey-Medium-450x299-1.jpg
299
450
Abby Straus
https://maverickandboutique.com/wp-content/uploads/2023/08/Logo_MB_color-BOLD-idea-8-23-light-014E5B-e1692803279375-300x124.png
Abby Straus
2015-03-10 14:48:56
2019-04-10 17:54:00
Democracy in Unusual Spaces